Michael effortlessly builds rapport whether it's in front of a couple of kids at the Pit Party, or the entire crowd of 50,000 during the show. In both cases he just connects. He adds a unique something extra for the fans.
Blake Hardy, Director of Operations
"Monster Jam", Feld Motor Sports
Stadium / Tour Announcer
Monster Trucks
Photo Gallery
Feature Gallery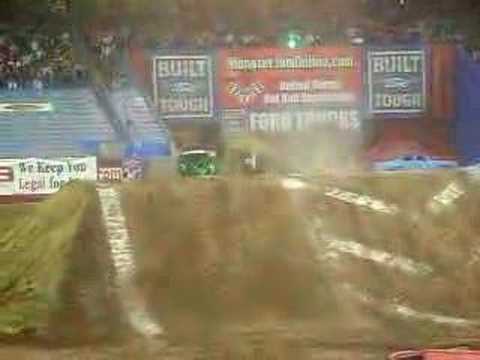 Highlight Video
"sunday, Sunday, SUNDAY!!!"
No event has more energy than a "Monster Jam" featuring 10,000 pound, car crushing, metal monsters, blasting their 1,500 horsepower engines. Michael has the presence, the booming voice, and the energy to add that critically dramatic edge to world of Monster Trucks.
From the largest stadiums with over 60,000 people at a single show, to a multitude of 10,000 seat arenas, Michael crosses the country every weekend on tour, often times announcing multiple shows in one weekend. In 2014, Chicago's "Allstate Arena" packed in nearly 50,000 fans over the course of five shows in a single weekend.
Michael has announced shows in the new Dallas Cowboy's Stadium in Texas, the "Georgia Dome" in Atlanta, "AT&T Park" in San Francisco, several sold-out shows of over 45,000 fans in "Angel Stadium" in Anaheim, sold-out shows in Houston's "Reliant Stadium" of over 56,000, numerous sold-out shows at "Qualcomm Stadium" in San Diego, a massive sell-out of over 65,000 at "Edward Jones Dome" in St. Louis… and, that's just to name a few.
In his 14th year with the largest promotion in the world, "Monster Jam", Michael shares the track surface with the top names in the sport. The events are unquestionably the best in the business with monsters such as…
"Maximum Destruction", "Sampson", "El Toro Loco", "Batman", "Bulldozer", "Superman"
…and of course — the most recognized Monster in the world, "GRAVE DIGGER!"
Once known as "Monster Truck Rallies", Michael constantly reminds people that this iconic thrill has evolved to a sport of high-tech, 10,000lb machines capable of racing at speeds of up to 60mph, and jumping 30ft above the track. Today, the shows sell out nearly every major stadium in the US.
Often asked what he likes about working in this sport, Michael's answer is revealing.
"Kids love this stuff! It's loud, fast, and things get crushed. You only have to see the look on their faces to understand. The fact that I have an opportunity to add something to that experience is what it's all about."
Michael leads the crowd back and forth from silence to pandemonium as the show progresses. Constantly running between the track surface and the safety holds, Michael's role is to deliver story lines beyond what the crowd can see.
Michael takes on a responsibility beyond any typical announcer. Knowing that youngsters stand in awe of these trucks, Michael strives to ensure that these young fans not only leave with an incredible experience, but an experience that will make a lifelong memory!
This is clearly evident as you watch Michael removing the much sought after hood ornaments from the "crush cars" before the show begins. Both during and after the event, you'll see Michael as he conducts his trademark routine of handing out these emblems (the "safe" part of the crushed cars) as souvenirs to some special youngsters in the stands, and those stuck at the back of the autograph line.
Archive Gallery To a child, these souvenirs are very special in that they come straight from the track, and there is only a couple to give out at each show.
"There have been several shows where an 8 or 9 year old will come up to say "hi"… and they have the emblem that I gave them years ago in their hands. Very few things in life can top this."
Make no mistake about it, Michael's strength is in his ability to incite the crowd to get on their feet, yell at the top of their lungs, and maintain that energy for the entire show.