In professional boxing he is among the best in the business.
Art Pelullo, Boxing Promoter
Banner Promotions
Michael's a quality person, as well as a professional.
Nick Charles, Broadcaster / Announcer
"ShoBox: The New Generation"
He is the premiere emcee / ring announcer who commands an audience both in venue and on television. Michael is always prepared and accurate in his presentations.
Doug Loughrey, Director Programming Acquisitions
ESPN
I have worked with Mike on live national television for many years. He is among the few who get it. From his voice, to his timely and accurate words, he is a pro's pro in every way.
Joe Tessitore, Broadcaster / Announcer
ABC/ESPN
Boxing, College Football, Horse Racing
His voice, his demeanor, his presence — it all adds up to a class act.
J Russell Peltz, Boxing Promoter
International Boxing Hall of Fame, Class of 2004
This is a good kid… he's a true professional.
Steve "SS" Smoger, Referee
Thank you for your assistance with promoting Planet Hollywood. I will most definitely be recommending you to our customers.
Maureen Storto CMP, LES
Director of Catering/Convention Services
Planet Hollywood Resort & Casino, Las Vegas
He has the perfect delivery for boxing. One of my favorite ring announcers.
Jay Nady, Referee. Las Vegas
Ring Announcer
Professional Boxing
Photo Gallery
Feature Gallery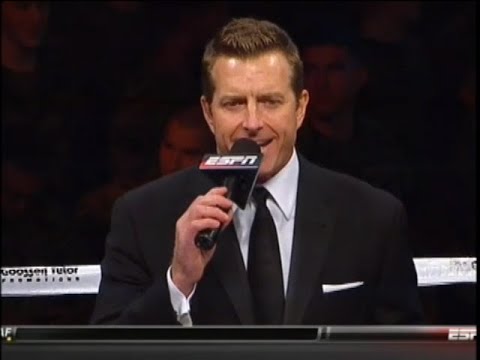 Highlight Video
Michael C. Williams is one of today's most notable Ring Announcers.
Now celebrating 25 years as a Ring Announcer, Michael has worked at the most demanding levels of televised fight sports including PPV, NBC, CBS, SPIKE, ESPN, FSN, HBO, SHOWTIME, as well as numerous international networks. As one of few Ring Announcers with national / international experience, Michael has been licensed in nearly every state, as well as Canada, Mexico, and the UK.
With the creation of the groundbreaking Premier Boxing Champions (PBC) in 2015, Michael served as the lead Ring Announcer voicing dozens of events from coast to coast in just the first three months after the launch. PBC events were broadcast live on nearly every major broadcast network, and featured many of the world's top boxers in world title competition. As a result of the heavy scheduling demands, that same year Michael hired, trained, and managed PBC's second ring announcer. At the start of 2016, Michael moved his counterpart into the primary position, opening up his schedule for the international expansion underway with Bellator MMA.
Michael's boxing background includes appearances on HBO as the lead Ring Announcer for multiple "Boxing After Dark" telecasts. Michael also announced the undercard fights broadcast throughout South America and Europe for several HBO "World Championship Boxing" events.
For ESPN "Friday Night Fights", Michael has announced multiple shows from coast to coast, each year, for over a decade. Additionally, ESPN brought Michael in for several consecutive years to announce the network's annual "Salute to America's Veterans". The event was always broadcast live from the active airstrip at "Marine Corps Air Station, New River / Camp Lejeune". Few moments in the boxing ring rival the feeling of introducing a Marine to sing our National Anthem, while surrounded by over 1,000 Marines standing at attention. It lives as one of Michael's favorite moments. You can see it here.
Michael has announced boxing events Promoted / Co-Promoted by Banner Promotions, Peltz Boxing Promotions, Mayweather Promotions, DiBella Entertainment, Goossen Tutor Promotions, Square Ring Promotions, Don King Productions, Top Rank, Inc., Thompson Boxing, Star Boxing, Golden Gloves (S. Africa), German Titov Promotions (Russia), Fight Academy (England), as well as many others.
Having first begun announcing with Hitz Boxing Promotions in Chicago, Michael took the lead role with Banner Promotions in 2005, traveling nationally / internationally announcing numerous world title fights. Michael traveled to the southern state of Chiapas, Mexico to announce an IBF World Title fight broadcast nationally throughout Mexico, as well as internationally in Africa, Europe, and the US. Michael announced the entire show simultaneously in both Spanish and English.
At the sound of the bell, it's Michael's articulate, precise delivery of the introductions that gets the bouts started. As a Ring Announcer's true value extends well beyond the introductions, Michael creates the complete event with his ability to focus on the promoter's organization, the fighters, future events, and the recognition of the event's venue and sponsors.
Archive Gallery In addition to the night of the event, Michael's announcing is utilized to bring that high-energy, fight-night atmosphere to the events leading up to the actual fights — Weigh-Ins, Press Conference, Media Workouts, etc. Michael not only adds the drama that only a Ring Announcer can deliver, but also takes responsibility to communicate event details, drive ticket sales, recognize sponsors, and creates a feel for the events that is unique to the sport of boxing. Video and audio footage of Michael from these Weigh Ins' has been utilized by both "HBO World Championship Boxing" and "ESPN Friday Night Fights".